TREMBLE KIDS
Unreleased 8" Acetate, 1959, Cover by Erwin Meierhofer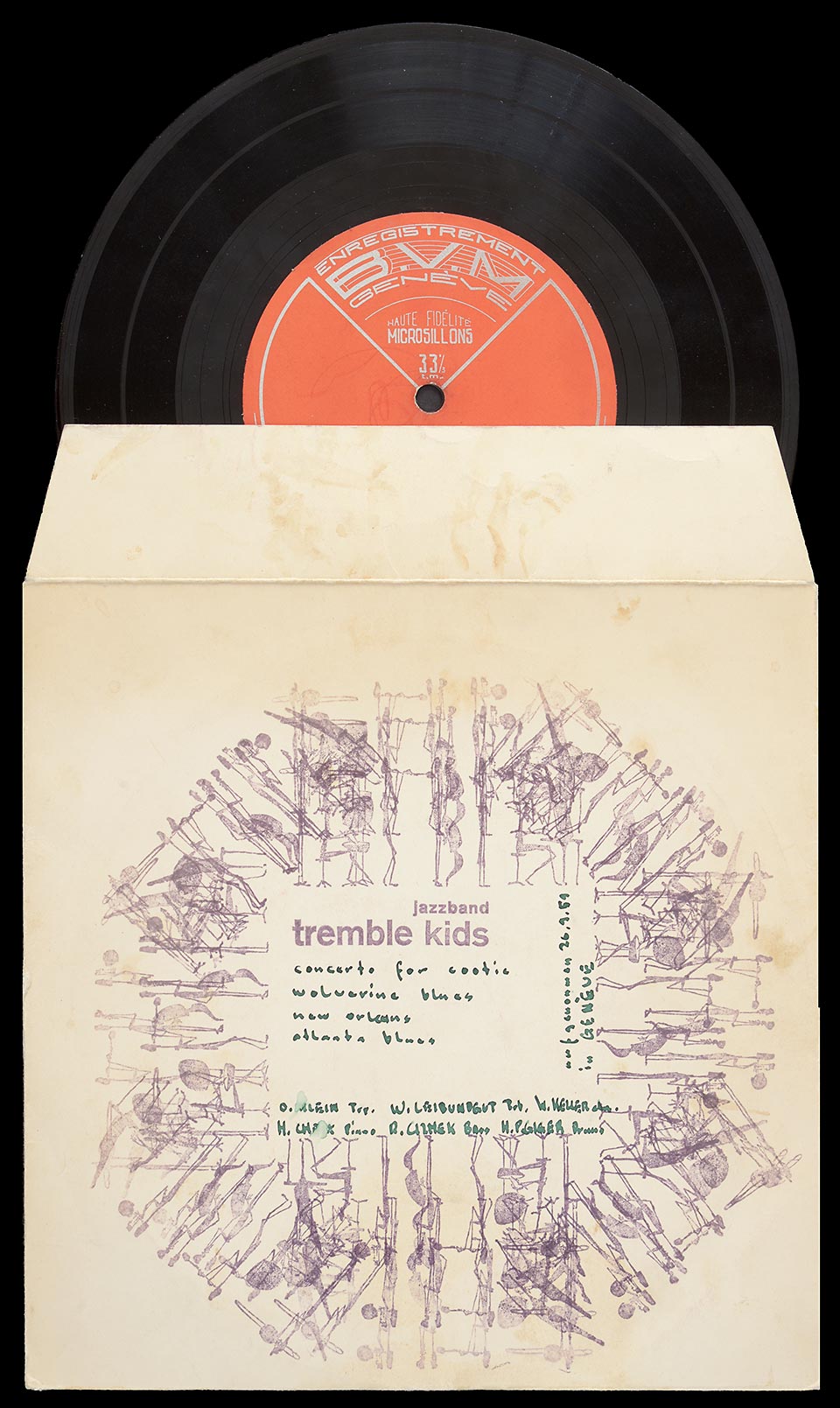 Diese Platte der Zürcher Trad Jazz Band Tremble Kids enthält Aufnahmen von einer Session bei Radio Genève am 26. September 1959. Beteiigt waren u.a. Wieni Keller, Henri Chaix, Peter Giger und Oskar Klein. Für das Cover verwendete der Besitzer einen Stempel mit Zeichnungen des früheren Tremble Kids Drummers Erwin Meierhofer. Meierhofer war Grafiker und Künster und seine an Giacometti geschulten Figuren tauchten auf frühen Tremble Kids Platten und Plakaten immer wieder auf.
This cover for an unreleased acetate by Zurich Trad Jazz Band Tremble Kids was decorated with stamps of their former drummer Erwin Meierhofer. He was a professional graphic artist and well known for his Giacometti-style figures.
LES SAUTERELLES
Untitled first album, 1966, Columbia, with drawing by Düde Dürst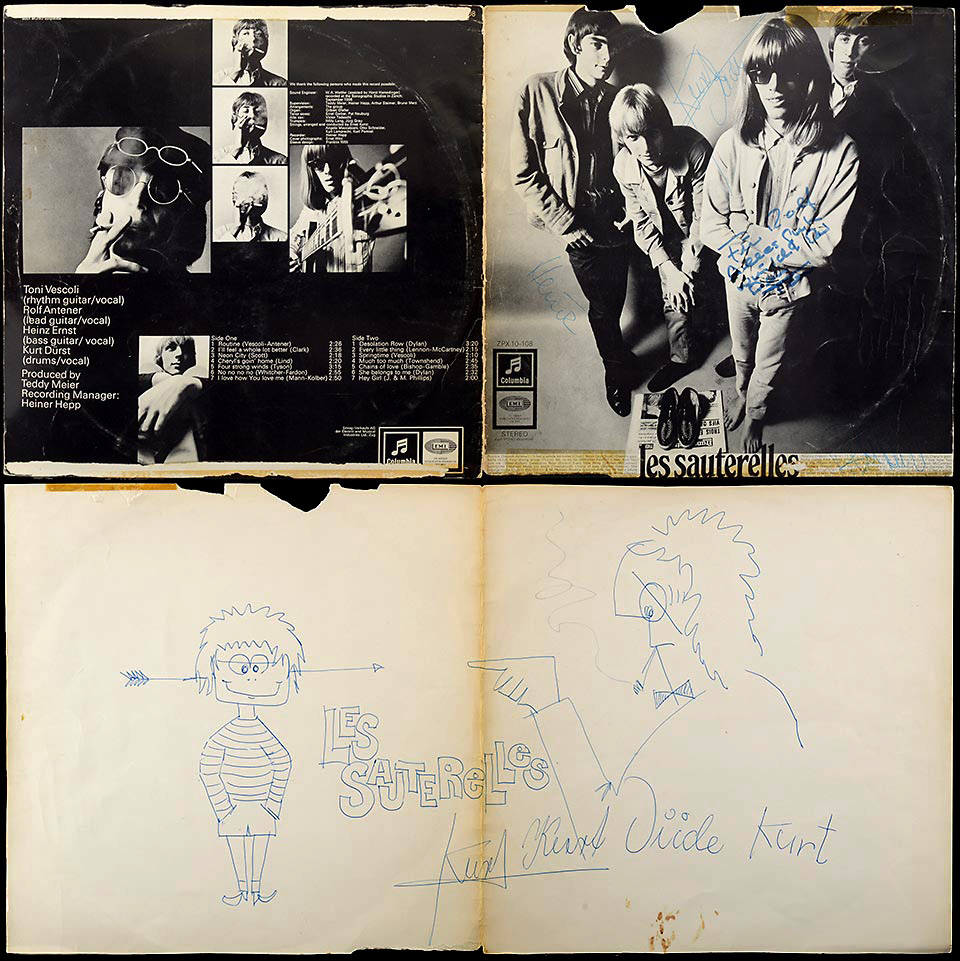 Das erste Album der Swiss Beatles Les Sauterelles war ein Folk Beat Klassiker - nicht zuletzt wegen des stylishen Covers von Ernst Wirz. Entweder Sauterelles Drummer und Grafiker Düde Dürst oder der/die Besitzer(in) zeigten aber wenig Respekt für die Verpackung. Sie rissen das von der Band signierte Cover auf. Düde platzierte darauf eine Art Selbstporträt auf der Innenseite.
The album debut of Les Saueterelles was sort of a Folk Beat classic and it's stylish cover by Ernst Wirz was also visually stunning. Ignoring this, either Sauterelles drummer Düde Dürst or the former owner ripped the (signed) cover open, so that Düde could place a self portrait inside. A rather unique copy!
NASAL BOYS
Cover for unrelased album, 1977, by Kaspar Pfenninger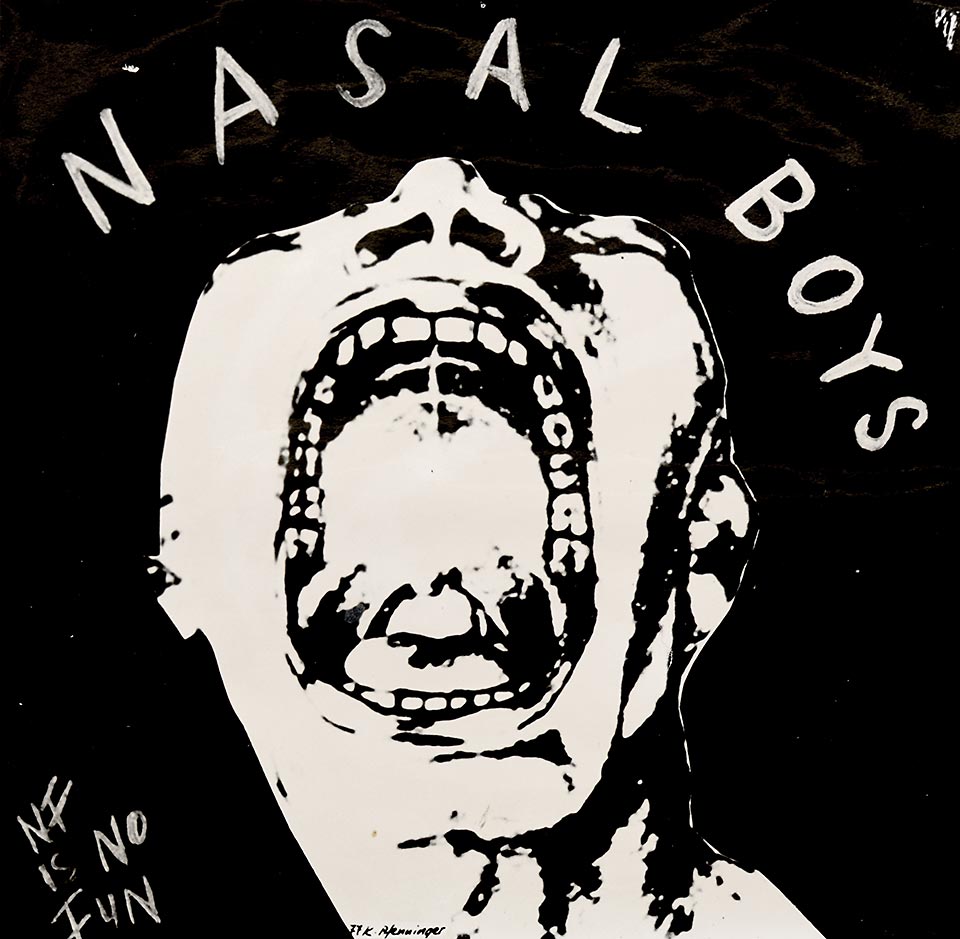 Die Nasal Boys waren die erste Schweizer Punk Band und definitiv eine der besten. Ende 1977 veröffentlichen sie ihren Single-Klassiker "Hot Love". Ein Album als Nasal Boys erschien nie - erst nachdem die Band unfreiwillig ihren Namen zu Expo geändert hatte und Gitarrist Rudi Dietrich die Band verlassen hatte, erschien bei CBS eine LP. Der Cover-Entwurf von Kaspar Pfenninger für ein unveröffentlichtes Album hat überlebt und wurde 2006 für die Compilation Lost And Found verwendet. Das Original ist auf Fotopapier im Format 30 X 30 cm ausgeführt.
NASAL BOYS
Cover for unrelased album, 1977, by Kaspar Pfenninger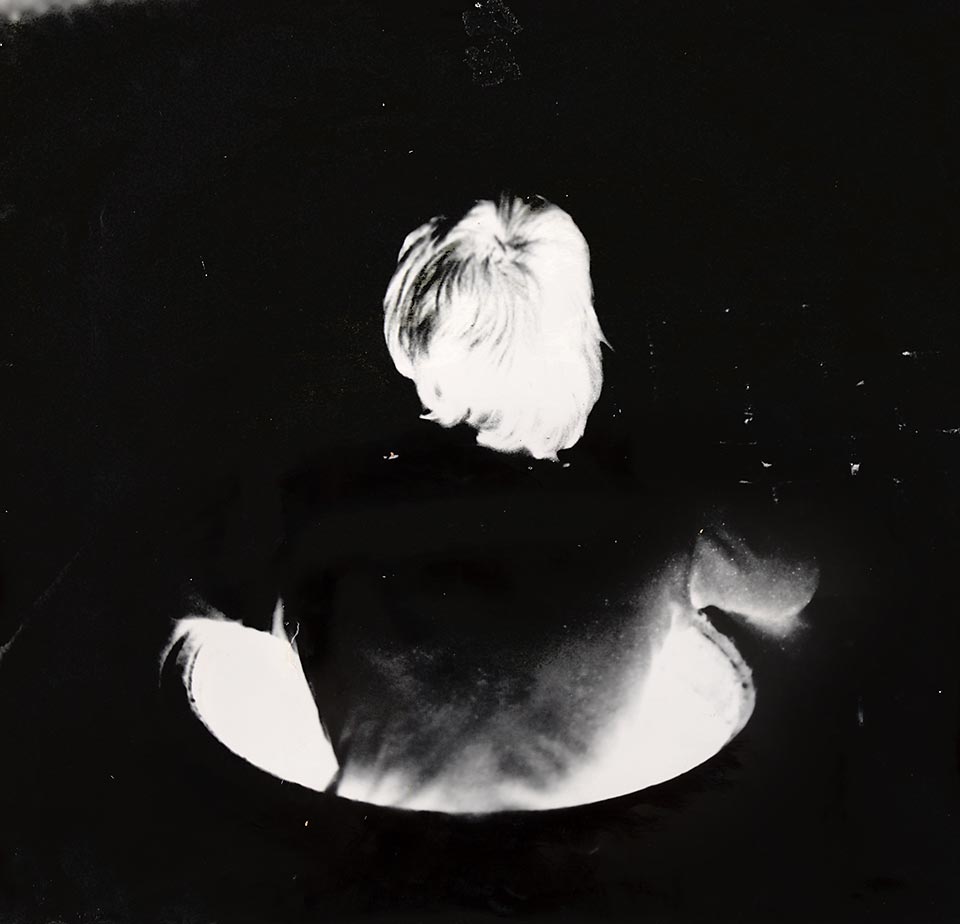 Nasal Boys were Switzerland's first Punk band, and certainly one of the best. In 1977 the band from Zurich released their classic single "Hot Love". A Nasal Boys album was planned but not released - only when the band had changed it's name to Expo and guitarist Rudi Dietrich had left the band, an album was released. This stunning cover by Kaspar Pfenninger for the unreleased album has survived. In 2006 it was used for the Nasal Boys compilation Lost And Found.
POLO'S SCHMETTERDING
Test pressing Single "Lotti Lotti", 1978, Logos by Polo Hofer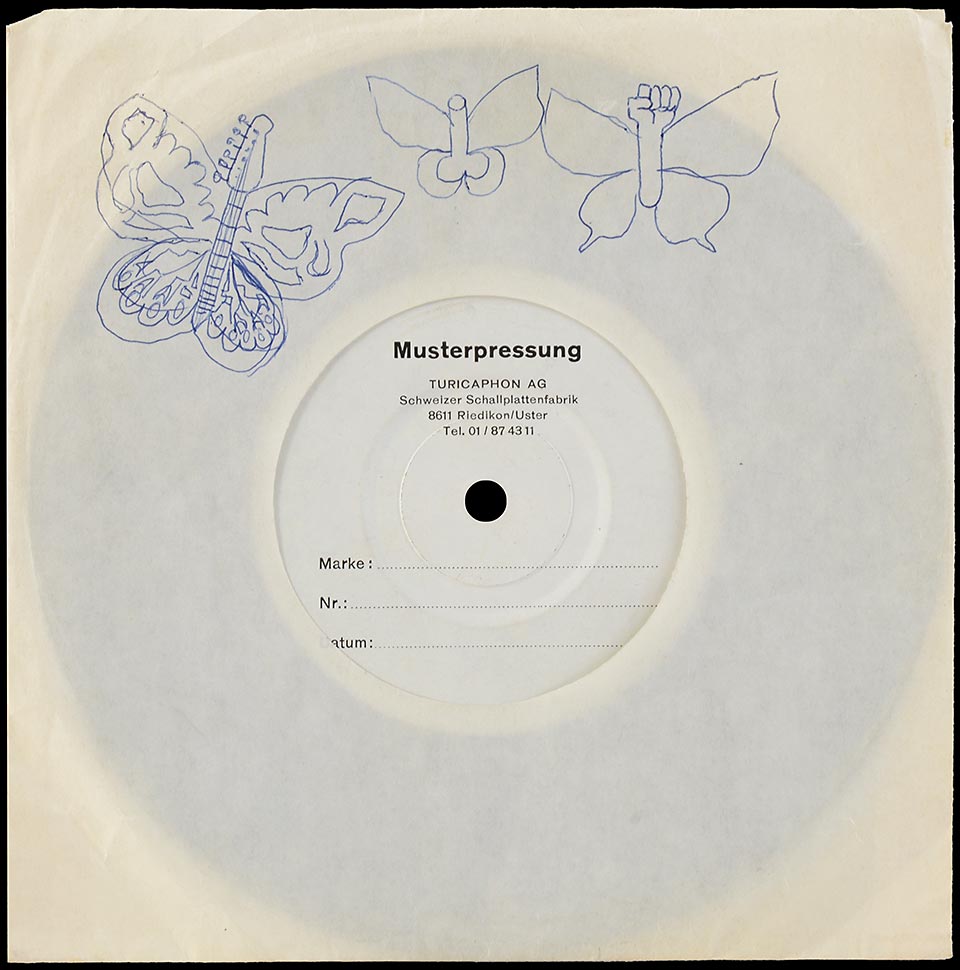 Nachdem er 1978 die Band Rumpelstilz verlassen hatte, tat sich Polo Hofer mit den Musikern von Span und der Pianistin Marianna Polistena zusammen. Die neue Band hiess Polo's Schmetterding und war schon bald im Studio. Als er die Testpressung für die erste Single "Lotti Lotti" erhielt, ein Bubblegum-Rocker im "Hang On Sloopy"-Groove, kritzelte Polo ein paar Entwürfe für ein mögliches Band-Logo aufs Cover.
POLO'S SCHMETTERDING
Lotti Lotti, 1978, Schnoutz Records 6028 941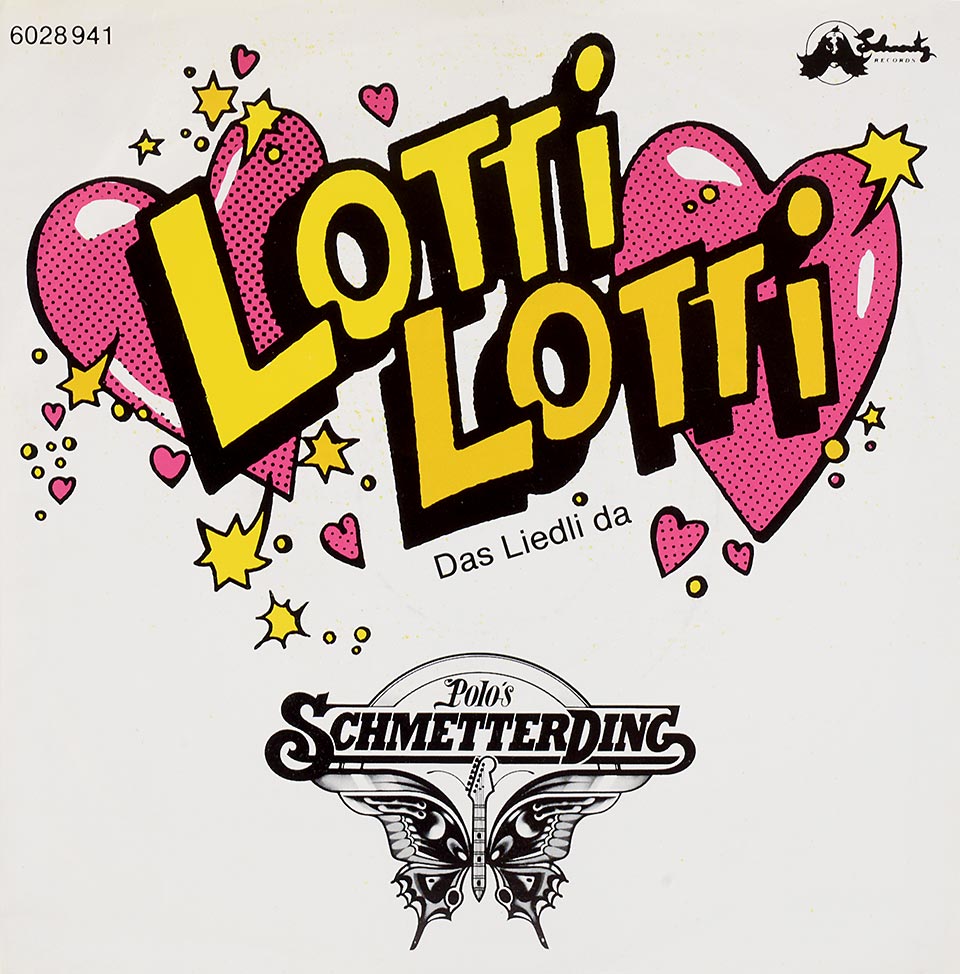 After leaving his band Rumpelstlz in 1978, Bernese Dialect Rocker Polo Hofer started a new band called Polo's Schmetterding. Once he had received the test pressing for the first 7" "Lotti Lotti", a bubblegum rocker in the "Hang On Sloopy" mood, he scribbled some ideas for a band logo on the cover.
THE THREE KINGS
One Off Record Store Day 2016 EP, Cover by Mario Capitanio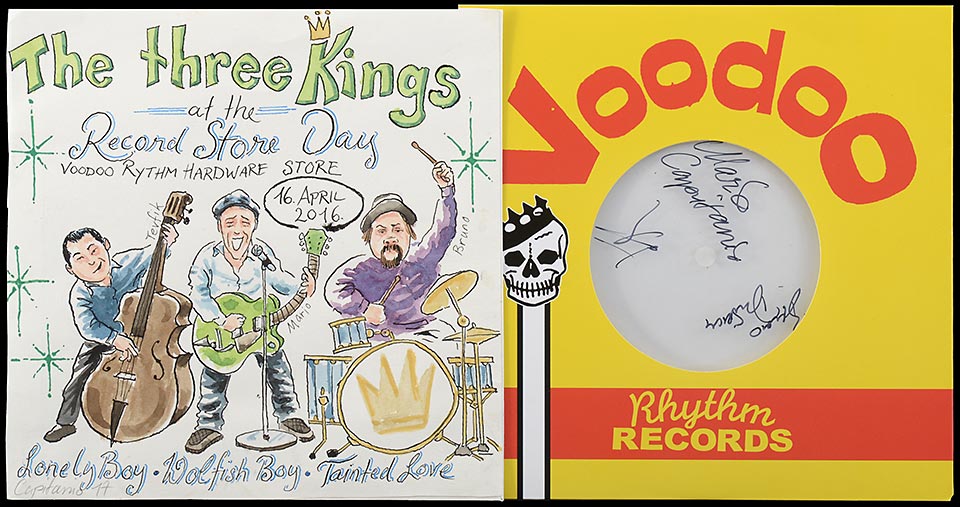 Am Record Store Day, 16. April 2016, spielten diverse Bands in Beat Beat-Man Zellers "Voodoo Rhythm Hardware Store" an der Münstergasse. Die Gigs wurden von Adi Flück direkt auf Platte geschnitten und die "One Off" Tonträger gleich vor Ort versteigert. Hier das einzige Exemplar einer "Doppelsingle" der Three Kings (Mario Capitanio, Bruno Dietrich, Tevfik Kuyas) mit den Songs "Lonely Boy", "Walfish Boy" und "Tainted Love", Fehlstarts und Schweissausbrüche inklusive. Das Cover wurde später von Mario Capitanio für Sam gestaltet - Grazie, Mario!
On Record Store Day, April 16th 2016, several local bands played at Beat-Man Zellers "Voodoo Rhythm Hardware Store" in the old town of Bern. Their gigs were cut direct to disc by Adi Flück and the results were auctioned on the spot. This particluar one off "double single" is by famed Bernese Live Trio The Three Kings and features kick ass Rock'n'Roll, warts and all. The cover was later given to Sam by guitarist and comic artist Mario Capitanio - Thank you, Captain!