MARCO & GT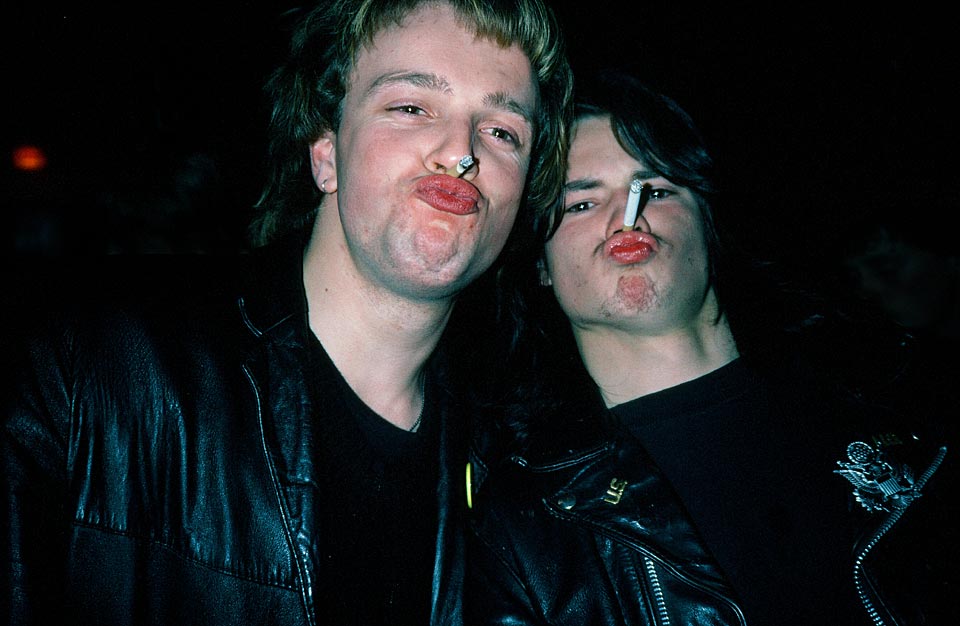 Unbeschwerte Tage: Marco Repetto und GT im Club Spex, ca. 1978.
Early Days: Marco Repetto and GT having fun, while they were still with Bernese Punk band Glueams, ca. 1978.
Martin Eicher und GT beim zweiten Grauzone Auftritt, 7. April 1980, am Punk Festival St. Gallen. Veranstalter Lurker Grand hatte die Band wegen ihrer Glueams-Punk-Referenzen gebucht. Doch Grauzone waren nicht wirklich das, was Punks unter Punk verstanden. Das gefiel nicht allen, machte die Band aber einzigartig.
Martin Eicher and GT live at their second ever gig on April 7th 1980, at a Punk Festival in St. Gallen. Promotor Lurker Grand had booked the band with respect to their earlier incarnation "Glueams". But Grauzone were definitely not what one called Punk at the time. They were not very popuar with the "hardcore" Punk fans, but they had a unique sound.
Grauzone am No Wave Sx-X Festival, Kulturfabrik Wetzikon, 21. Juni 1980. V.l. Stephan Eicher (verdeckt), Martin Eicher, GT.
Grauzone playing yet another festival, this time in Wetzikon, June 21th 1980. Left to right: Stephan Eicher (hidden), Martin Eicher, GT.
Letzter Auftritt von Grauzone (Fotos vom ersten) im Kino Walche Zürich, 31. Januar 1981. Grauzone versuchten, wie eine «richtige» Popband zu klingen, doch sie scheiterten grandios. An diesem Abend traten auch diverse andere Musiker in wechselnden Formationen auf. V.l: Markus «Bayer»Tränkle (The Sick, Mother's Ruin), Unbekannt, Martin Eicher, Claudine Chirac.
Grauzone at their last gig (pics from their first ever performance here) at the Cinema Walche in Zurich ( a porn cinema), January 31th 1981. There were other musicians appearing in loose formations, this was more than a straight rock concert. Grauzone tried to sound like a real pop band, but the concert ended in disaster. Left to right: Markus "Bayer" Tränkle (The Sick, Mother's Ruin), unknown, Martin Eicher, Claudine Chirac.
Martin Eicher spielt im Kino Walche die gleiche Rickenbacher Gitarre...
Martin Eicher plays the same Rickenbacker…
... wie sein Bruder Stephan auf diesem Foto.
... as his brother Stephan on this pic (Kino Walche, Jan. 31 1981).
Claudine Chiracs Sax Solo auf "Eisbär» wurde für die Single-Version brutal ausgeblendet. Dennoch hinterliess sie mit zweit Solo-Singles und mit der Elektro Band Starter weitere popmusikalische Spuren.
Claudine Chirac's wild atonal sax solo was cut away for the single version of "Eisbär". Claudine later released two solo singles and was a founding member of the Bernese Electro Pop band Starter (where also Stephan Eicher guested shortly).