Für ihre Europatournee 1976 wählen die Rolling Stones das Matterhorn als Plakatsujet. Sie beehren die Schweiz am 15. Juni 1976 auch mit einem Konzert im Hallenstadion Zürich.
For their 1976 European tour, the Rolling Stones choose the Matterhorn as main attraction. They honour Switzerland also with a concert at the Hallenstadion in Zurich on 15 June 1976.
Von der Plattenfirma gesponsertes Tourposter 1976, das gleichzeitig das neu erschienene Album "Black and Blue" bewirbt.
A tour poster sponsored by the record company. It also promotes the new record "Black and Blue".
STONES CONCERT TICKET 1976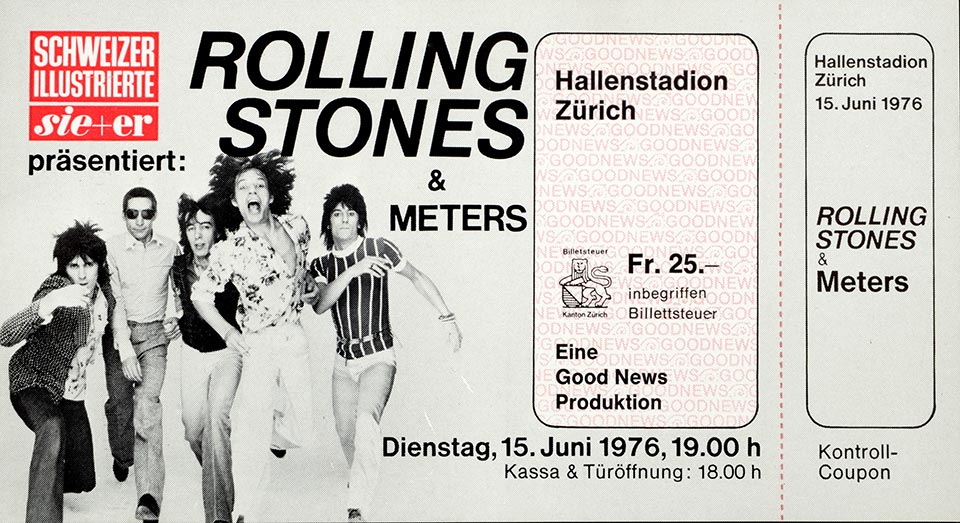 Ticket für das Konzert in Hallenstadion. Im Vorprogramm spielt die kochend heisse Funk Band The Meters aus New Orleans.
A concert ticket for 1976. Support act were The Meters with their hot gumbo of New Orleans Funk.
IT'S ONLY ROCK'N'ROLL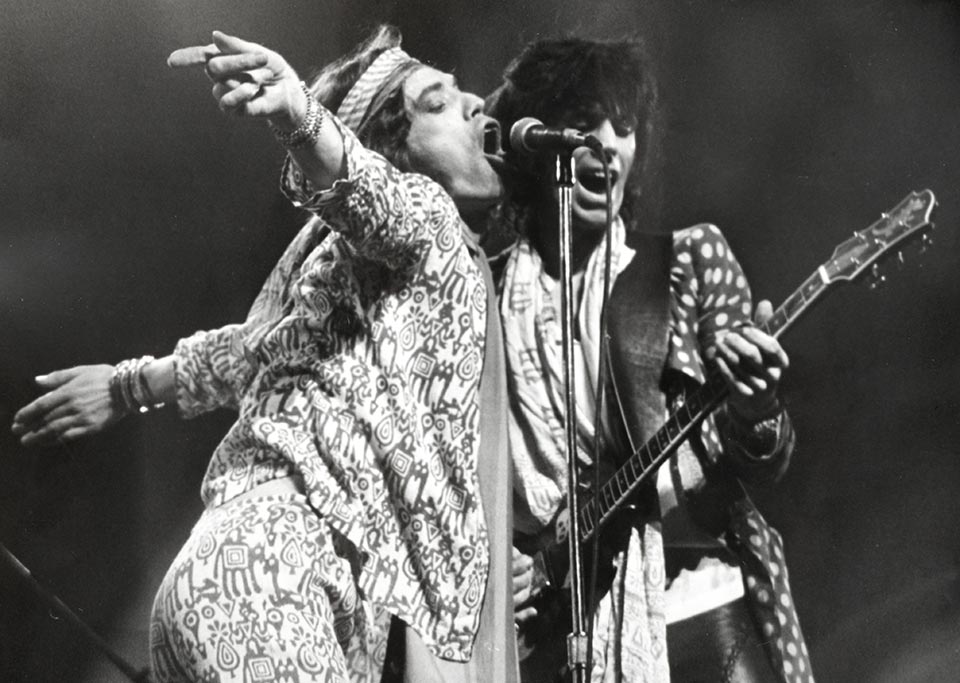 Mick Jagger und Keith Richards in Zürich, 15. Juni 1976.
MICK JAGGER & RON WOOD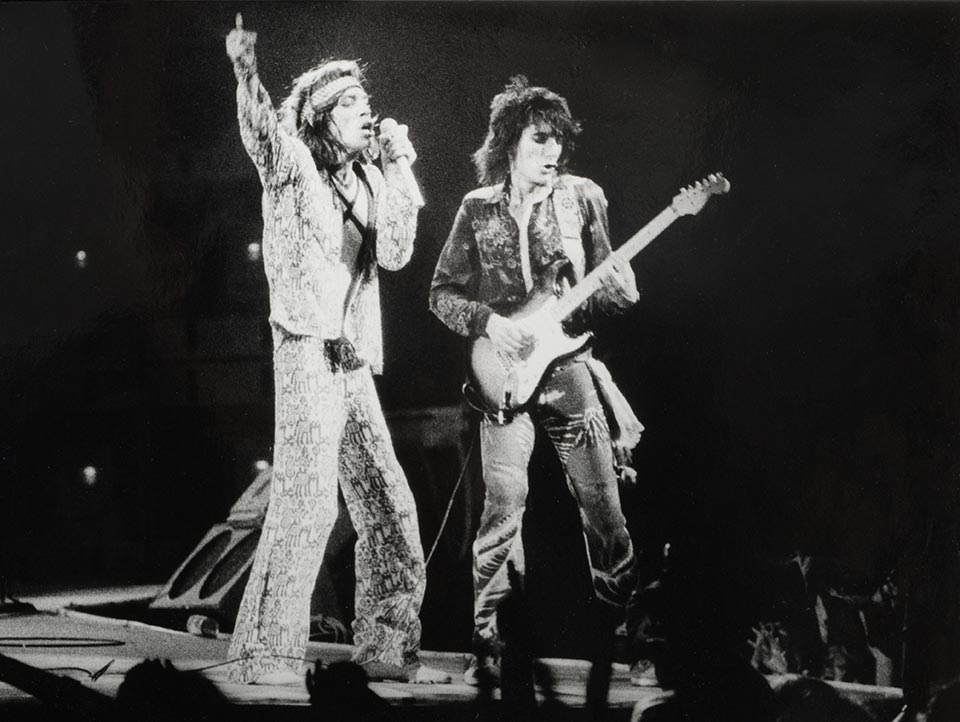 In Zürich debütiert Ronnie Wood als neuer Rolling Stone, der den ausgestiegenen Mick Taylor ersetzt. Wood hat 1969 und 1973 mit den (Small) Faces in der Schweiz gespielt.
In Zurich, Ronnie Wood makes his debut as the new Rolling Stone, replacing Mick Taylor, who has left the band. Wood played in Switzerland with the (Small) Faces in 1969 and 1973.
CONCERT REVIEW 1976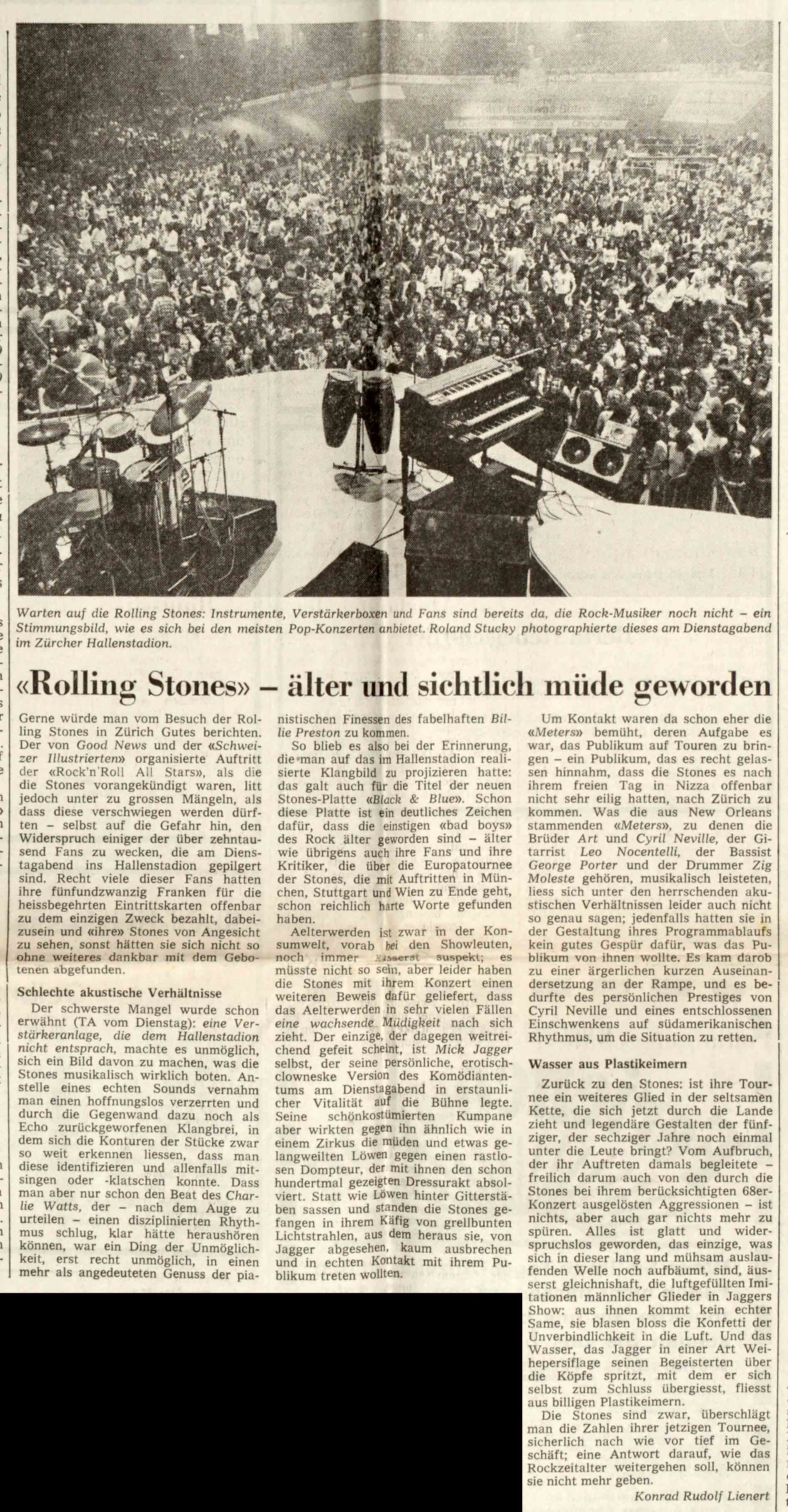 Tages-Anzeiger, 17. Juni 1976
Newspaper review in German only.